FAQS
1. DESIGN
San Diego Auto Wraps prides itself in the 5 factors of a great Vehicle Wrap. Number 1 in this 5 step process is Design. We take into consideration all aspects in what you are trying to achieve with your wrap. Whether it needs to be Super BOLD and Eye Catching or you want more of a mellow concept we can guarantee the perfect design for your project! When our name is involved. . . it has to be the best!
2. MATERIALS
San Diego Auto Wraps uses only the highest quality materials on the market today. With that said, 3M is our material of choice for every wrap we produce. 3M stands behind their product and thats what helps us produce and build the highest level of wrap quality available.
3. PRINT
San Diego Auto Wraps makes sure it's machines are running at optimum performance and quality settings possible for every job. This in most cases is not true for wrap companies. We are about quality not quantity. We guarantee every wrap that leaves our building will be printed at the highest print quality and color pop possible.
4. PREP
Another thing San Diego Auto Wraps prides itself in is the Preparation process we go through on every vehicle we install a wrap on. We take our time to de-trim every vehicle so that it has that proper finished touch as well as a longer wrap longevity. Taking a light or a door handle off the vehicle makes all the difference in the world compared to cutting around it. Not only is de-trimming important but the actual cleaning of the vehicle is huge as well. Every vehicle must get properly cleaned and primered prior to vinyl installation. This is something we take very seriously.
5. APPLICATION
Our application process follows our intense prep process. The application is of as much importance as the rest of the steps. Without proper application it can distort the design as well as shorten the vehicle wrap longevity. Every project here at San Diego Auto Wraps endures our 5 step process. . . GUARANTEED!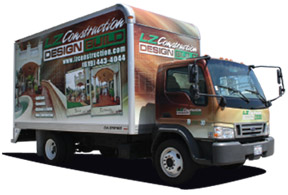 FAQS
90% of travelers notice graphics on wrapped vehicles




75% of consumers form impressions about a company based on the fleet graphics




30% of consumers base buying decisions on impressions they receive from company vehicles